News
Select a news topic from the list below, then select a news article to read.
Subcategories
Imported from NJ Libertarian News from the published feed
This is a page of various videos that we have either created or found interesting. Be sure to check out and follow our YouTube page.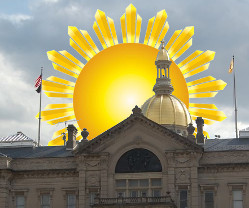 The Open Government Advocacy Project is a committee of the NJ Libertarian Party. Its goal is to ensure transparency and accountability at all levels of government. Articles posted here are a subset of the work of the committee. For more information visit the Open Government Advocacy Project blog.
If you would like to demand accountability and ensure that your local governing body or school board adheres to the Open Public Records Act we can help you request information from them. Contact John Paff, the project chair here.
NJ government is huge and complex. Private industry is shrinking while the size and cost of government bureacracy continues to grow. The articles posted here provide a guide of the NJ State Government and can be used by citizens and candidates for office to evaluate what departments can be reduced drastically in size.
We'll start with just some of the departments and provide a breakdown on what they do (or purport to do), how many employees they have and how big their budget is.
The New Jersey Libertarian Party's Preempted Ordinance Repeal Project ("the Project") seeks to get New Jersey municipalities to repeal loitering ordinances that should have been -- but were not -- repealed when the New Jersey Code of Criminal Justice was enacted in 1979. The Project has successfully had loitering ordinances repealed in over 30 towns. For a summary listing of all the towns see Preempted Ordinance Repeal Project page.
The Police Accountability Project is a committee of the NJ Libertarian Party. Its goal is to search out cases of police misconduct, file former Internal Affairs (IA) complaints when appropriate, and to publicize violations of rules and laws by the police. There may be other stories posted on the NJLP Police Internal Affairs Complaint Blog page.
If you would like to help or know of a case we should be looking at, contact the committee at This email address is being protected from spambots. You need JavaScript enabled to view it..