In 2001, an appeals court ruled that New Jersey's practice of not allowing anyone to register to vote as anything other than Democrat, Republican, or Independent was unconstitutional. This was the result of a lawsuit brought by a coalition of political parties, including the NJ Libertarian Party.
Since then the number of registered libertarians has been steadily growing. The 2016 numbers show 5,391 registered Libertarians. This is a 109.5% growth from the prior year. We are only partway through 2017 and we have grown once again to 7,090 registered Libertarians.
Help us to keep this momentum! If you are not a party member consider joining the party. If you are not registered as a libertarian please consider changing your voter registration declaration.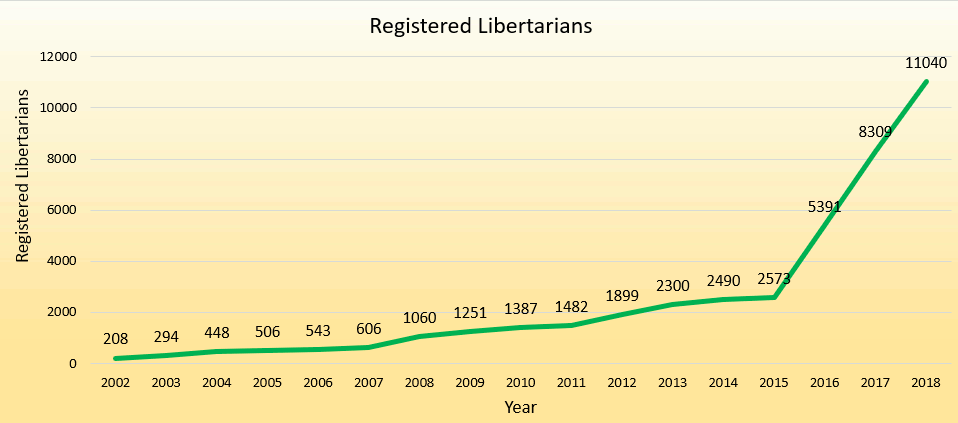 Summary of Registered Libertarians
Note that for most numbers it is as of the general election. 2017 is as of the June Primary
| | | |
| --- | --- | --- |
| Year | Number | Growth |
| 2017 | 7,090 | 31.5% |
| 2016 | 5,391 | 109.5% |
| 2015 | 2,573 | 3.3% |
| 2014 | 2,490 | 8.3% |
| 2013 | 2,300 | 21.1% |
| 2012 | 1,899 | 28.1% |
| 2011 | 1,482 | 6.8% |
| 2010 | 1,387 | 10.8% |
| 2009 | 1,251 | 18.0% |
| 2008 | 1,060 | 61.6% |
| 2007 | 656 | 20.1% |
| 2006 | 543 | 7.3% |
| 2005 | 506 | 12.9% |
| 2004 | 448 | 52.3% |
| 2003 | 294 | 41.3% |
| 2002 | 208 | N/A |