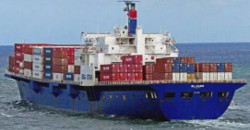 The 790 foot cargo ship, El Faro, was lost at sea during Hurricane Joaquin. The search operation was ended earlier this week.
The search for survivors from El Faro has been called off, the crew consigned to the depths. We are left to mourn the loss of 33 brave mariners, 28 of whom were American. But as we mourn, we should also be angered, because their deaths may very well have been avoidable. Hurricane Joaquin wasn't the sole culprit; it had an accomplice, and that accomplice is a monstrous piece of legislation known as the Jones Act.
Between the lines of this disaster, something should jump out at the reader: What were those sailors, in the middle of a Category 4 hurricane, doing onboard a vessel dating back to the Ford administration? In an era where we replace our phones every two years and trade in our car leases in not much longer than that, why is it that these people were stranded in the middle of a maelstrom aboard what El Faro seaman Chris Cash called a "rust bucket"?