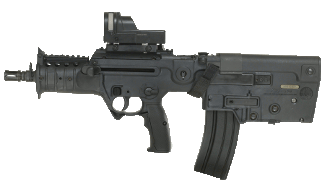 It's already controversial for our nation's local police departments to receive surplus assault rifles and equipment from the US military for use by law enforcement officers. It's a whole other ball game for these weapons to be donated by a member of the community in appreciation of the police's help with a local religious festival.
Records show that an unnamed religious community events organizer was so appreciative of the help that New Jersey's Lakewood Township and its police department gave during a September carnival that they wanted to make a donation to the local police department. What did this anonymous organizer want to donate? 10 brand new assault rifles from Israel. Ones that they had test fired themselves on their last trip there.
According to emails obtained by the New Jersey Libertarian Party under the Open Public Records Act (OPRA), in December of 2013 a community events organizer contacted a Lakewood official thanking them for their participation in the town's September 2013 Succos Carnival. They had given participants police vehicle rides, allowed use of their flatbed, and were complimented as being very kind. The official was also satisfied with the event saying "It gives the community a chance to see the police in a [REDACTED] light and not just in their role as law enforcers."
The organizer then offered to buy the Lakewood Police Department 10 Tavor assault rifles, on behalf of the township, at an approximate cost of $20,000. The official was ecstatic at the offer and mentioned that the department's currently utilized H&K MP5 submachine guns had become "tired after 15 years of use, so your offer couldn't have come at a better time."
A third unnamed individual, most likely in the Police Department itself, later specifically requested the Tavor X95. That likely police officer noted that is was a "primary close-quarters combat rifle which would be an excellent replacement" and be more along the lines of a submachine gun than an assault rifle. This likely police official later contacted Israel Weapons Industries, the makers of the Tavor rifles and submachine guns, and had the weapons delivered some time before July of 2014.
Lakewood Township decided to redact the names of all people involved in the transaction claiming that the names were not a part of the NJLP's OPRA request. It is important to note that there is no evidence present in these documents that anything illegal or unethical was done by any parties involved. While highly suspicious, there is presently no law on the books to prevent a person from buying tens of thousands of dollars worth of military equipment on behalf of a township or local police department.
The investigation by The New Jersey Libertarian Party started after inquiring about a press release issued by Israel Weapon Industries. IWI stated "We are very proud to have the Lakewood NJ police department choose to transition over to the TAVOR SAR." This statement implied that Lakewood had bought the weapons themselves. When asked to turn over documents about pricing and contracts pertaining to the purchase of the rifles, the township clerk replied in an e-mail that "The documents requested do not exist. The rifles were donated to the Lakewood Police Department."
Private citizens are currently barred from owning such weapons. They are not allowed to buy fully-automatic firearms, full-sized magazines, or shortened barreled rifles in the state of New Jersey. In a country where citizens are increasingly worried about police militarization, law enforcement agencies are routinely allowed to buy such things as long as the appropriate ATF paperwork is filled out.