News Release
For Immediate Release – June 20, 2008
http://www.jasonforsenate2008.com
Contact Lou Jasikoff – (973) 752-9164 or This email address is being protected from spambots. You need JavaScript enabled to view it.
Libertarian officially on ballot
Trenton, NJ –Jason Scheurer, the former certified and clean election candidate from West Windsor will represent the Libertarian Party as its standard bearer for the U.S. Senate in the State of New Jersey according to Lou Jasikoff, Chair of the New Jersey Libertarian Party and campaign manager for the Scheurer campaign.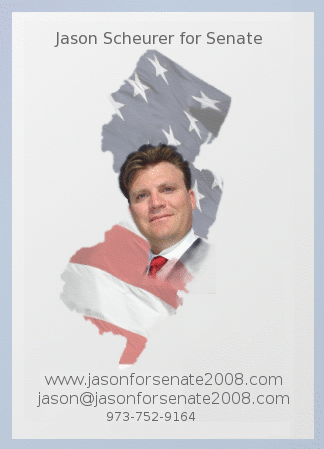 "I could not be more excited to have such a quality candidate representing the Libertarian Party this year. We will run a very aggressive campaign in conjunction with the Barr/Root Presidential campaign, and look forward to pointing out the differences between the Libertarian Party and the tired and failed policies of the Republican and Democratic parties," said Jasikoff.
"Runaway spending, a crumbling education system, rampant illegal immigration, corruption at every level of government, a bankrupt social security system, and a failed foreign policy make it more important than ever to offer to the voters of New Jersey a real choice this coming November. The time is now to make the real changes needed to get America back on the right track and not rely on the same two political parties that have brought us to the place we are today," said Scheurer.
Scheurer concluded, "I commend the Zimmer campaign for calling for more debates so the citizens of New Jersey get to hear where the candidates stand on the issues from the candidates themselves. I call on both the Zimmer and Lautenberg campaigns to publicly state their willingness to include the Libertarian Party in all debates and challenge them to open and serious discussions on the critical issues we are faced with as a nation today."
For interviews please contact Lou Jasikoff at 973-752-9164 or email at This email address is being protected from spambots. You need JavaScript enabled to view it..