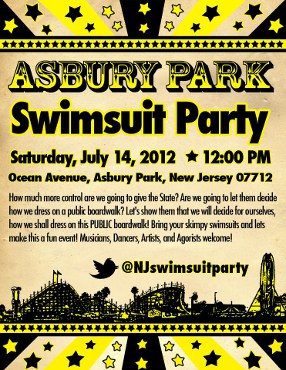 In Asbury Park there is a decades old law banning bathing suits.
"No person clad in bathing attire shall be on the boardwalk or the public walks adjacent thereto, ..."
The chairwoman of the local Asbury Park Republican Party, Louise Murray, is offended by the way people dress and is willing to use force to have people cover up. She wants the law enforced.
In light of Murray's inclination to have the police use threats of violence, fines, and caging on peaceful people, a Swimsuit Party has been planned for July 14th on Ocean Avenue in Asbury Park. The current schedule of events are:
12:00 PM Press Conference
12:30 PM Live Music
1:00 PM Catwalk Swimsuit Fashion Show (anyone can participate)
2:00 PM Live Music and Dancing
The organizers have a Twitter feed and a facebook event page.