This was submitted through the submissions tab on Cop Block.org.
Agency involved: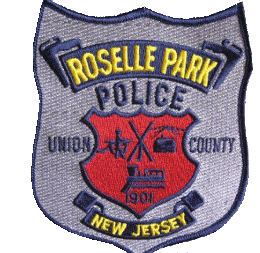 Roselle park police department
110 East Westfield Avenue
Roselle Park, NJ 07204
Emergency: 911
Non-Emergency: 908-245-2300
Record Room: 908-245-1100
On January 7th 2015. Our friend, Christopher Larriva, was paid a visit by a Roselle Park NJ detective long with two other officers. In one marked and one unmarked car. They wanted to question him about a photo he'd taken and posted on instagram. It was of a loaded magazine for a gun. To the left is the picture he posted.
There is not even a gun in the shot. The detectives insisted on seeing the gun at his doorstep. Chris was wise enough not to let them inside and talked to them on the porch. He told the officers it was not his gun. There was no gun in the picture and who it belonged to. After threatening him with home invasion if he didn't show them the gun. And after Chris questioned the detectives on the illegality of taking pictures and owning firearms, the detectives turned their attention to Chris' employer. Who was the LEGAL gun owner. Chris had taken the photo on a day his boss was headed to the range, and that's where the photo generated from.
This is starting to sound a lot like the story of Mr Van Gilder who was arrested for owning an eighteenth century flintlock, blogged about here previously on Cop Block.org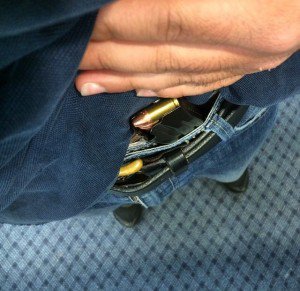 Back to Chris, who can not even be identified in the picture! He is lucky he has a friend as well as a boss, because these detectives could have cost Chris his job! Chris says that when they went to visit his boss, they "took all his info on his guns". Something I'm sure, in this growing police state, Chris' boss didn't appreciate!
This is not the first or last incident of police abuse Chris has suffered in Police State NJ. Apparently he says the police are following him now, and that he doesn't feel safe in the town he lives in. Not for the criminals, but for the cops!! A scenario we have seen played out time and time again. As you all know, I lived in NJ most of my life and can attest to the oppressive police state it has become. When I was a kid growing up in the seventies and eighties, it was all Jersey shore and the boardwalk, crabbin in Barnegat bay, but these days that just means unwanted police interactions! You'll be out crabbin and some schmuck in a hat will want to check your bushel!
Sorry Chris but I think your only option is to join the mass exodus of people from that over oppressive police state.