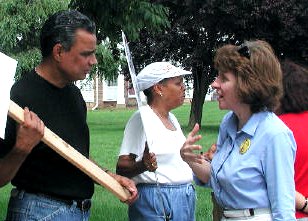 Ginny, while a candidate for Monmouth County Freeholder in 2004, speaks with Assemblyman Chivukala about eminent domain
With extreme sadness I announce the passing of longtime NJ Libertarian activist Ginny Flynn. Ginny has been with the party since its founding in 1972. She has run for public office multiple times under the Libertarian banner. More recently she has been serving as the Treasurer for the Monmouth Libertarians.
Her family is planning a memorial service on Saturday starting at 11:00 AM at the Morganville Volunteer Department. The following message was sent out by her family.
In accordance with her own philosophy, instead of a traditional memorial service we will be holding a "Celebration of Life" to honor her at a local venue.

After an opening service given by the family, friends are invited to come up and share a memory or thought about Ginny. Children are welcome and we will try to have a space in the back for them in case they need a break.

Celebration of Life for Ginny Flynn

When: Saturday, August 21st , gathering will begin at 11 am, service will begin at 12 pm

Where: Morganville Volunteer Fire Dept

Address: 78 Tennent Rd, Morganville, NJ (about 2 miles North of our house near Rt. 79), park around back

Family and close friends are welcome to remain after the service for a casual lunch.

In lieu of flowers, donations in Ginny's name can be made to the New School of Monmouth County or the Leiomyosarcoma (LMS) Direct Research Foundation. The New School is a non-profit alternative school that has been near and dear to our hearts for many years. Both Bridey and Ryan attended the school and Ginny has worked there in a variety of positions from bus driver to bookkeeper to administrative assistant over the past 18 years. The LMS Direct Research Foundation is helping to battle this so far incurable disease that took our Ginny far too soon.

The New School of Monmouth County

301 Middle Rd
Holmdel, NJ 07733

Checks can be made payable to "The New School – Ginny Fund"

For more information on the school, please see http://the-new-school.com (sorry, no on-line donations, but checks can be mailed or brought to the service on Saturday).

The LMS Direct Research Foundation accepts on-line donations. We have set up a Memorial Fund page at http://www.lmsdr.org/gflynn.php.

Contributions can also be made to the Future of Freedom Foundation in Ginny's honor. This organization furthers the causes of peace and liberty, two things that Ginny relentlessly supported her entire life. Please see their donation page for more information on contributing (please note that the donation is in memory of Virginia Flynn in the Comments or Honoree area).

Thank you to everyone for all of your love and support during this difficult time,

Len, Bridey, and Ryan
(732) 591-1328