Latest News
Details

Written by Jay Edgar
Category: Latest News
I keep getting anti-immigration emails from right wing groups claiming all sorts of things about The Dream Act. As someone who supports a free market and free people, I think this is a good bill. It still has too much bureaucracy and doesn't apply to enough immigrants however.
Most of the right wing groups emails that I am getting claim that this is a give away of student aid and provides free college tuition. The bill has none of that in it. In fact it limits financial aid to loans only, work study, and Title IV aid. This is all subject to the same rules as any other student and does not provide for any special aid for illegal immigrants.
Immigrants who take advantage of the Dream Act are given a 10 year conditional non-immigrant status. They are no longer eligible if they "become a public charge" (i.e. become dependent on the state). Eligibility is removed for a list of other reasons.
Details

Written by Webmaster
Category: Latest News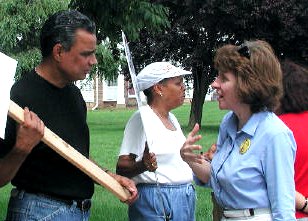 Ginny, while a candidate for Monmouth County Freeholder in 2004, speaks with Assemblyman Chivukala about eminent domain
With extreme sadness I announce the passing of longtime NJ Libertarian activist Ginny Flynn. Ginny has been with the party since its founding in 1972. She has run for public office multiple times under the Libertarian banner. More recently she has been serving as the Treasurer for the Monmouth Libertarians.
Her family is planning a memorial service on Saturday starting at 11:00 AM at the Morganville Volunteer Department. The following message was sent out by her family.
In accordance with her own philosophy, instead of a traditional memorial service we will be holding a "Celebration of Life" to honor her at a local venue.

After an opening service given by the family, friends are invited to come up and share a memory or thought about Ginny. Children are welcome and we will try to have a space in the back for them in case they need a break.

Celebration of Life for Ginny Flynn

When: Saturday, August 21st , gathering will begin at 11 am, service will begin at 12 pm