Latest News
Details

Written by Jay Edgar
Category: Latest News
While traveling through Freehold last week I passed a group of people gathered with signs demanding immigration rights. I found a place to park and walked over to investigate. I found a group of about 35 people gathered with signs demanding rights for immigrants.The group consisted mostly of people from Casa Freehold and representatives from the NJ Immigration Policy Network.
The rights we enjoy as Americans belong to all humans. The right to freely travel provides humans with the ability to vote with their feet. If a regime (be it a country, state, or municipality) abuses the rights of its citizens, those citizens must be free to travel to another region. The right to freely contract for labor is an essential component of free and open markets. Free markets benefit all parties. Protectionism penalizes everyone.
Our current immigration policies are too complicated, too oppressive, and too restrictive. Immigration and Customs Enforcement locks up way too many people and disregards the rights of citizens and non citizens alike. Immigration control has been used as a pretext for National ID cards, financial surveillance of Americans, border and travel surveillance, and a growing police state.
Details

Written by Jay Edgar
Category: Latest News
From an early age our society falsely teaches us that our country was founded as a democracy. School teachers, journalists, and politicians alike all wrongly praise democracy. In our government schools, the adamant opposition to democracy of our country's founders is not taught. Our founders specifically avoided the creation of a democracy. Rather they created a Constitutionally Limited Republic.
Details

Written by Jay Edgar
Category: Latest News
Watch Your Wallet When Driving Through These 10 States

With the first major driving holiday of the summer season approaching, we have analyzed the laws across the country to determine the best and the worst states when it comes to exploiting the motoring public.

These state rankings were calculated using seventeen criteria related to specific traffic laws, enforcement practices, and the treatment of traffic ticket defendants. The rankings are designed to provide guidance to travelers who do not want their vacation ruined by speed traps, arcane laws or "kangaroo" traffic courts.
Read the full article at National Motorists Association site...
Details

Written by Jay Edgar
Category: Latest News
Inspired by a posting at A Boring Blog, Trenton officials have officially changed the sign on the Lower Trenton Bridge.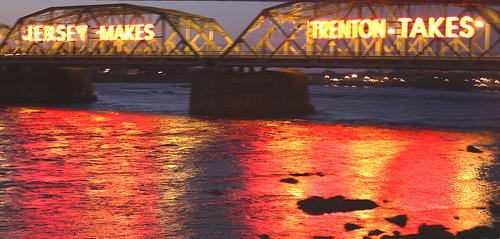 Details

Written by Webmaster
Category: Latest News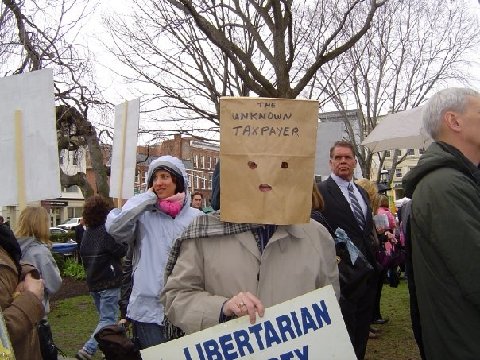 The Unknown Taxpayer made an appearance at the tea party on the Morristown Green. He was there representing the thousands of New Jerseyans who were afraid to show their faces in opposition to the IRS for fear of audits or harassment.
Yesterday, members of the NJ Libertarian Party attended Tea Party Rallies across the state. The citizens of this state and the NJLP are outraged over the enormous growth of government at both the state and federal levels. The Bush-Obama bailouts are just the straw that has broken the camel's back.
The NJ Libertarian Party has held tax day demonstrations across the state every year since 1972. We are happy to see a revival of the same libertarian principles that our founders espoused and look forward to the day that government intrusions into our bedrooms, our relationship, and our wallets are rolled back by our elected leaders.