UPDATE: Since I wrote the below story, my daughter and I visited Sean in the jail. I've rewritten the below story with details I have learned during my visit.
---
When Edward Forchion, aka NJ Weedman, left the Burlington County Jail on January 28th it marked the end of his sentence for probation violations related to an arrest for medical marijuana possession. He was carrying with him a very disturbing letter from fellow inmate, Sean Turzanski. Sean's letter tells the story of an elderly homeless man, Mr. Robert Taylor. Mr. Taylor is known to have been in and out of jail and to have a drinking problem. He was known as Drunk Santa Claus.
According Mr. Turzanski, Mr. Taylor was thrown onto a concrete floor, stripped of his clothes wearing only a prison "turtle suit" without any other clothes, blanket or mat. For 5 days Mr. Taylor did not eat. Mr. Taylor was non-verbal and given no care. On December 29th Sean heard Mr. Taylor begging for help. Sean yelled to get the attention of the Correction Officers on duty but was told to "shut up". The next day the Officers checked on Mr. Taylor and found him dead lying on the concrete floor in the same position where he was thrown five days earlier.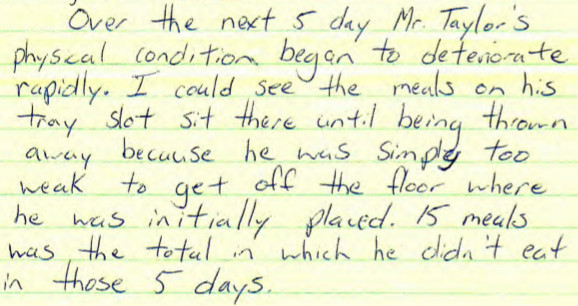 In an effort to corroborate Mr. Turzanski's letter, the Open Government Advocacy Project requested reports on "any police incident or other report that was issued after [Taylor] was found dead in his cell." John Paff, Chair of the project, received a reply stating that no police record exists and that the request was not specific enough.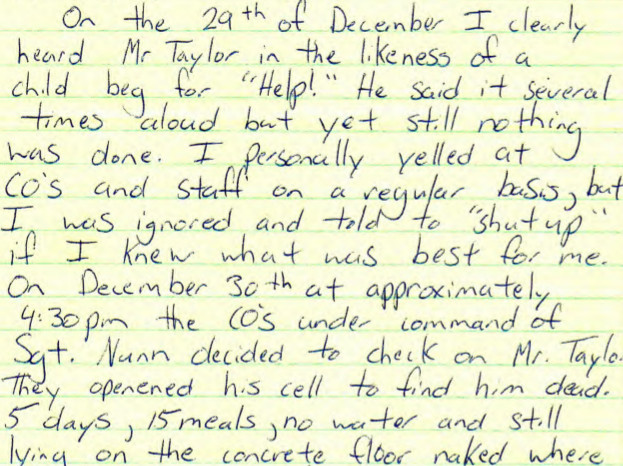 On Sunday my daughter and I visited Sean in the Burlington County Jail. After meeting with Sean, I completely believe his account of the treatment and subsequent death of Robert Taylor. Sean is being punished by the warden for writing his letter. He has been held in Administrative Segregation for about two weeks now. He was placed in Segregation after the Warden, Lawrence Artis, confronted him in the prison gymnasium. Artis called him a liar and told him that no one would believe him. Right after this confrontation Sean was moved into Segregation and remains there today.
Sean Turzanski is being punished for speaking out by the very same people that may have tortured and killed Robert Taylor.
Sean may be visited - but only on Sundays. He may be written to at:
Sean C. Turzanski # 90248
Burlington County Jail
54 Grant St.
Mt. Holly NJ 08060
I plan on visiting him again this coming Sunday.
In addition to the Mount Holy police department we have also sent requests for an investigation to the Burlington County Prosecutor. Sean desires justice for Mr. Taylor and is currently paying the price for speaking out. I urge readers to read the letter and visit the links and decide for themselves what happened.
Jay Edgar
Ed talks about Mr. Taylor at 9:30 in the following interview.