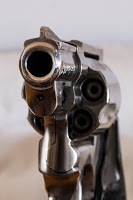 On October 15, 2015, both Keith Brown of NJ Advance Media and Isaac Avilucea of the Trentonian reported that State Police Detective Doug Muraglia was one of the two officers who together fired as many as eighteen shots at Radazz Hearns, then age 14, on August 7, 2015. The other officer who fired at Hearns was identified by the newspapers as Mercer County Sheriff's Detective James Udijohn.
Yet, when I asked the Attorney General's office to confirm that Muraglia and Udijohn were indeed the shooters, it refused. So, with the help of Hackensack attorney CJ Griffin I filed an Open Public Records Act (OPRA) lawsuit that sought the names of the two officers who opened fire on Hearns. On June 30, 2016, I prevailed before Mercer County Assignment Judge Mary C. Jacobson and the State appealed.
Because of the Supreme Court's recent decision in North Jersey Media v. Lyndhurst, the State, likely realizing that it was going to lose its appeal, decided to give me one Use of Force Report that identifies Muraglia as having fired his weapon. I am hopeful that the State will soon confirm the other officer's identity and drop its appeal.