Latest News
Details

Written by

Sussex County Angel

Category: Latest News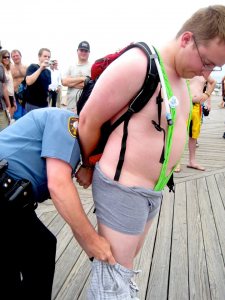 So on Saturday I headed up to the Asbury Park Civil Disobedience Swimsuit Party, which ended up being a celebration as the 1958 ordinance was repealed a few days prior to the event.  It seems that the City Council may not have wanted the press that comes with a scantily clad protest.
The ordinance said: "No person clad in bathing attire shall be on the boardwalk or the public walks adjacent thereto."
Since that changed, most of us expected no one would be arrested.  It seemed we were wrong.
Steven Ettinger has a hearing to decided whether charges will be pressed. The hearing is July 27th, 2012, at 10 am at the Asbury Park Court.  Steve has created a chipin asking for donations as he has a 9 hour trip (round trip) to get to the court.  He may need even more if he is charged as he may be looking at a $1,000 fine.
Details

Written by Jay Edgar
Category: Latest News
NJLP Annual Convention
Tavern on the Lake
Saturday, March 24, 2012
Tentative Meeting Agenda
Doors Open at 8 AM, Coffee and light breakfast available
Call to order & quorum check 9:00 AM
Agenda review & approval 9:05 AM
Secretary's Report
Treasurer's report
2011 and 2012 budget presentation 9:15
Election of NJLP Officers and At-Large Reps (9:30)
Ongoing Business & County Committee Reports
Details

Written by Jay Edgar
Category: Latest News
Most of these ads have been around for a long time. Feel free to share!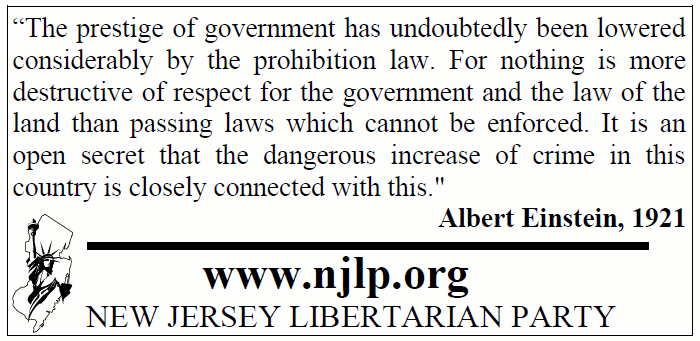 Details

Written by

Johnny Green

Category: Latest News
There Are Few People That Fight For Marijuana As Hard As NJWeedman
[reprinted with permission from http://www.theweedblog.com/my-marijuana-hero-njweedman/]
If you don't know about NJWeedman, and you consume marijuana, where have you been smoking your marijuana, under a rock? Meeting NJWeedman was on my bucket list for several years now, and I'm happy to say I had that honor at the activism panel at the High Times Medical Cannabis Cup in Los Angeles. The first time I ever saw NJWeedman on video was footage of a pro-marijuana protest NJWeedman was being arrested at. As the cops put the handcuffs on NJWeedman, NJWeedman just kept taking hits from his blunt and blowing the smoke in the cops' faces. It was one of the most inspiring things I have ever seen to this day.
NJWeedman even mailed marijuana to politicians in a form of marijuana prohibition protest! I could try to tell the story of NJWeedman myself, but I will let him do it. Here is the 'about' page from NJWeedman's official website:
Robert Edward Forchion (born July 23, 1964), also known as NJWEEDMAN, is a cannabis activist and a perennial candidate for various New Jersey elected offices. Forchion identifies himself as a member of the Legalize Marijuana Party and campaigns primarily on the single issue of cannabis legalization. Forchion has done various stunts to bring attention to cannabis legalization, including smoking cannabis in front of the Liberty Bell in Philadelphia, as well as attempting to legally change his name to NJWeedman.com.