Latest News
Details

Written by Joseph Dunsay
Category: Latest News
On Tuesday I attended a presentation by Americans for Prosperity at the West Bergen Tea Party meeting. The speaker discussed the Regional Greenhouse Gas Initiative (RGGI) which New Jersey joined in 2007. This program is a cap and trade system for limiting carbon dioxide emissions. It requires owners of coal, oil, and natural gas power plants to buy emission permits for every ton of carbon dioxide that they release into the air. The State of New Jersey collected $65 million through RGGI in 2009. Rather than use these funds on carbon sequestering programs, Governor Christie put them into the general state coffers. RGGI raises energy prices to fund our government's fiscal irresponsibility. It is time for New Jersey to withdraw from RGGI.
Details

Written by Jay Edgar
Category: Latest News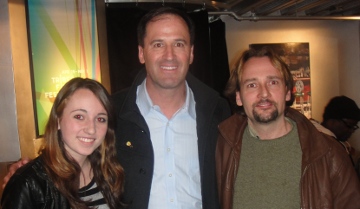 Atlas Shrugged Coproducer, Harman Karslow with NJLP Chair Jay Edgar and his daughter, Melissa Edgar, at the NYC Premiere
This past week I got a phone call from screenplay writer, Brian O'Toole, inviting me to the New York City Premiere of Atlas Shrugged, Part 1. On Thursday, my daughter and I traveled into the city to view the movie.
Originally published in 1957, Atlas Shrugged is about the struggle of the productive class against a society that uses politics to limit the success of the productive for the benefit of those who are less capable. Communist laws such as the "Equalization of Opportunity Bill" force capable businessmen, engineers, scientists, and industrialists to withdraw from the system. The parasitic classes no longer have productive elements on which to feed. The "strike" forces society to fall apart.
Details

Written by Webmaster
Category: Latest News
Yesterday, Judge Andrew Napolitano discussed Julian Heicklen's FIJA demonstrations, arrests, and harassment on yesterday's Freedom Watch Show. See the Freedom Watch website for watch the Judge's comments. The good Judge also includes comments on the First Amendment issues like campaign speech laws and the suit against the Westboro Baptist church of racism as it pertains to freedom of speech.