Open Government Advocacy Project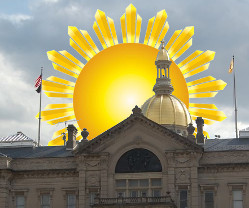 The Open Government Advocacy Project is a committee of the NJ Libertarian Party. Its goal is to ensure transparency and accountability at all levels of government. Articles posted here are a subset of the work of the committee. For more information visit the Open Government Advocacy Project blog.
If you would like to demand accountability and ensure that your local governing body or school board adheres to the Open Public Records Act we can help you request information from them. Contact John Paff, the project chair here.
Details

Written by John Paff
The Libertarian Party's Open Government Task Force's efforts to increase the Warren County Freeholder's Open Public Meetings Act compliance was reported in a June 16, 2008 Express Times article.
The OGFT's letters, referred to in the article, are available here.
Advocate goes after minutes
He claims Warren County freeholders are violating Open Public Meetings Act.
Monday, June 16, 2008
By SARA K. SATULLO
The Express-Times

WHITE TWP. - An open government advocate is challenging Warren county's policy of not releasing closed-door meeting minutes without freeholder board approval.

John Paff, chairman of the New Jersey Libertarian Party's Open
Government Advocacy Project, initially challenged the county for
being too vague when going into closed session. Instead of the board just saying it is discussing pending litigation, Paff advocates specifying the litigants' names.
Read the full article here.