Open Government Advocacy Project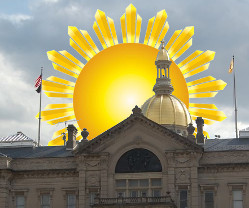 The Open Government Advocacy Project is a committee of the NJ Libertarian Party. Its goal is to ensure transparency and accountability at all levels of government. Articles posted here are a subset of the work of the committee. For more information visit the Open Government Advocacy Project blog.
If you would like to demand accountability and ensure that your local governing body or school board adheres to the Open Public Records Act we can help you request information from them. Contact John Paff, the project chair here.
Details

Written by John Paff
I have been informed by the Republican Club of Pennsauken Township (Camden County) that the Township is seeking to pass a very restrictive ordinance regulating the use of cameras to video record public Township Committee meetings.
One of the provisions of the proposed ordinance requires that citizens who record meetings, shall, at the end of the meeting, give the original recording to the Clerk for duplication and that the original can be picked up by the citizen within five business days of the meeting.