Candidates and Elections
Details

Written by

Patrick McKnight

Category: Candidates and Elections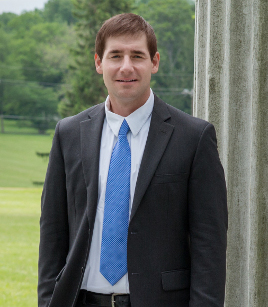 Patrick McKnight is a Libertarian Candidate for Assembly in the 16th District. See mcknight1776.com.
The United States Constitution is a formal agreement between a free People and their chosen form of government. As such it is the most important type of binding legal contract. The wisdom of the Constitution is in the establishment of a limited government with clearly-articulated individual freedoms. The adoption of this system and the accompanying Bill of Rights represented a singular historical triumph for civilization, as for the first time a government was established in liberty and reason rather than in plunder and force. Our Constitution, though not perfect nor a panacea, remains the bulwark of our freedom and the source of our national greatness.
This contrast is written in the blood of Patriots who made the ultimate sacrifice so that their children could live in a free, solvent United States of America. Only the Libertarian Party realizes that freedom requires constant struggle because the nature of government is to always revert backwards into illegal tyranny.
Not so long ago the American people suffered under the unlimited power of a feudal monarch. Today the monarch has been replaced by federal bureaucracy but still we are not free. Lest we forget that in an empire the individual is nothing more than government-property with legal rights essentially equivalent  to an animal or inanimate object. Likewise, in an empire there can be no justice because there is no rule of law, only the arbitrary whim of monarchs and despots. In an empire human beings exist only to be exploited, sacrificed in military adventures and oppressed politically. This is the essence of the imperial-feudalism our country was founded to oppose.  In America We the People are the Constitutional Sovereigns and first branch of government.
Details

Written by Jay Edgar
Category: Candidates and Elections
We still have petitioning to do to get Gary Johnson on the ballot!
Petitions are posted at http://njlp.org/uploads/petitions
A guide to petitioning is posted here.
Gary has downladable flyers available at his website.
Once your petition is complete contact me at This email address is being protected from spambots. You need JavaScript enabled to view it. or (848)-525-0578 for instructions on getting me your petition.
Details

Written by Jay Edgar
Category: Candidates and Elections
In May of 2012 delegates from each of the 50 state Libertarian Parties will be convening in Las Vegas, Nevada. The delegates will be deciding on the future of the party and will be picking who our candidate for President shall be.
Candidates who have made statements that they are running to date include:
Details

Written by

R. Lee Wrights

Category: Candidates and Elections
One of the few quibbles that many libertarians have against the positions taken by Gary Johnson is his support for the Fair Tax. Libertarian Presidential contender, R. Lee Wrights has written the following essay about The Fair Tax.
---
The Fair Tax Isn't Fair; It's a Farce
By R. Lee Wrights
Saturday, January 7th, 2012
"There cannot be a good tax nor a just one; every tax rests its case on compulsion." – Frank Chodorov
BURNET, Texas (Jan. 7) – The so-called Fair Tax is not fair; on the contrary, it is a farce based on fallacies and falsehoods. Sadly, some libertarians have fallen for the bogus arguments uttered by proponents of this national sales tax and bought into the idea that this is the "best we can hope to get." This is a justification very similar to the flawed reasoning that induces some people to vote for the "lesser of two evils."
Details

Written by Webmaster
Category: Candidates and Elections
The Texas Harris County Libertarians hosted a debate among three of the potential Libertarian Party Presidential nominees. Present was Roger Gary, R. J. Harris, and R. Lee Wrights.