Candidates and Elections
Details

Written by Webmaster
Category: Candidates and Elections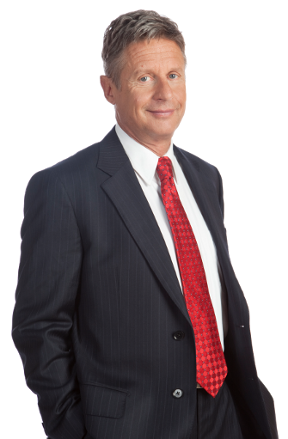 Gary Johnson will quit the Republican primaries and seek the Libertarian Party nomination instead, POLITICO has learned.
The former two-term New Mexico governor, whose campaign for the GOP nomination never caught fire, will make the announcement at a press conference in Santa Fe on Dec. 28. Johnson state directors will be informed of his plans on a campaign conference call Tuesday night, a Johnson campaign source told POLITICO.
The move has been expected for weeks -- Johnson had run a New Hampshire-centric effort that never got him past a blip in the polls. He appeared at only two nationally televised debates, and only one in which other major candidates took part.
Johnson expressed deep disillusionment with the process as his libertarian message failed to catch fire and he received almost no attention for his bid. He soon began flirting with the Libertarians when it became clear that he was gaining no traction in GOP primaries.
"I'm still in the race," Johnson told POLITICO last month. "I'm registered in New Hampshire and the intention would be, hope against hope that I would be able to be heard. But there is not much hope."
Details

Written by Webmaster
Category: Candidates and Elections
At his desk in Parsippany, Kenneth Kaplan reviews talking points for his Libertarian Party campaign for governor.

Photo by Robert Wiener

Libertarian candidate's fusion of Right and Left

by This email address is being protected from spambots. You need JavaScript enabled to view it.
NJJN Staff Writer

May 21, 2009

Ask Kenneth Kaplan why he is the Libertarian Party's candidate for governor of New Jersey and he'll tell you he's a "child of the '60s" who "believes in individual liberties."

In the category-defying case of the Libertarian Party, those range from doing away with most taxes and opposing gun control to approving same-sex marriage and legalizing the medical use of marijuana.

"Most Republicans and Democrats would say they believe in individual liberties, too, but they really don't," Kaplan said as he sat in his real estate office in Parsippany.

"They believe in bigger government that controls more and more of what we do, and I don't believe in that. I believe in voluntary relationships between individuals rather than relationships imposed by the government."
Details

Written by Jay Edgar
Category: Candidates and Elections
The hardest part of petitioning is overcoming the self-consciousness about doing it. Once you decide to get started, the rest is easy.
What You'll Need
A properly filled out petition. Get the name(s) of the candidates right. On the "party or party principle" line, put "Libertarian Party."
A ball-point pen. The ideal one that will write easily on non-horizontal surfaces, such as a Papermate Power Point. But a trusty Bic is okay.
A clipboard.
Details

Written by Webmaster
Category: Candidates and Elections
FOR IMMEDIATE RELEASE
NJ Libertarian Party Nominates Kenny Kaplan for Governor
New Brunswick, NJ - On Sunday, the NJ Libertarian Party State Committee unanimously selected Kenneth Kaplan to be the party's candidate for Governor. Born in Newark, the 61 year old Kaplan grew up in West Orange but currently resides in Parsippany. He is a graduate from Brandeis University and NYU Law School. For twenty-two years, he was associated with the Archie Schwartz Company but currently serves as President of KenKap Realty Corp., a company he founded after a six year term at Edgerton Realty.
As Governor, Kaplan's priorities are to phase out the state income tax and reduce the size and cost of government. Addressing affordable housing is one way he plans to solve this problem. Kaplan offers a creative solution to the decade's long quest to create affordable housing in New Jersey.  He wants the state to enact legislation to supersede local zoning ordinances, removing zoning barriers.
Details

Written by Jay Edgar
Category: Candidates and Elections
When one election is over, the next one has already begun. Operation ELECT-US is a program by the Libertarian Party to recruit as many candidates as possible for winnable local offices in 2009.
In odd numbered years, most elections are local and quite a few of them take place in the spring. For example, filing deadlines for local elections have already begun in Maryland, and take place in Illinois in December.