Candidates and Elections
Details

Written by Mike Guadagnino
Category: Candidates and Elections
With the new year brings hope and optimism that Mr. Murphy's time in office will be coming to any end. The lockdown, a chaotic vaccine roll-out and massive debt have been the hallmark of his authoritatively poor leadership and lack of vision. 
A few weeks back I interviewed Greg Mele who is seeking the New Jersey Libertarian Party's Gubernatorial nomination. This month I sat with Eveline Brownstein who would like to be the Lieutenant Governor of the once proud Garden State. 
MG: Thank you Eve for taking the time to sit with me. I'd like you tell me a little about you background and how it prepared me for lieutenant governor:
EB: My qualifications to run for Lieutenant Governor are the same as the qualifications are the same as those for Governor.  Must be at least 30 years of age - I am.  Must be a citizen of the United States for at least 20 years - I was naturalized in 1994, so I have been.  Must be a resident of New Jersey for at least seven years - I have been living and working in New Jersey since 2008.
Details

Written by Patrick McKnight
Category: Candidates and Elections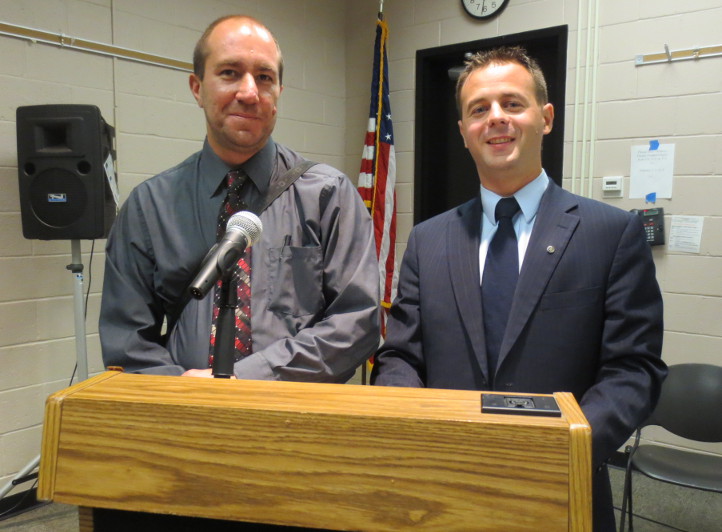 LIVINGSTON, NJ – The League of Women Voters held a debate for candidates for the State Assembly in the 27th district last Wednesday, September 30th. Libertarian candidates offered refreshing fact-based solutions to economic concerns such as job creation, state budgeting and state pensions.
The Republican candidate promised to reach across the aisle, work hard and renegotiate pensions without mentioning any specifics. The Democratic incumbents, Assemblyman John McKeon of West Orange and Assemblywoman Mila Jasey of South Orange, were absent.
"If you re-elect these people you know what to expect," said Damien Caillault, one of the Libertarian candidates. "They will spend more, tax more, fund new projects, and in a few years, they'll come back for more."
Details

Written by Webmaster
Category: Candidates and Elections
Press Release
Why your Libertarian vote on Tuesday, Nov. 4, is worth 100 times the other guy's vote
Political leverage! Libertarian Party candidates have it in 2014 — IF YOU VOTE Libertarian.
Why? Unlike the Democratic and Republican candidates, our Libertarian Party candidates for public office have one rock-solid issue — and a clear, powerful message.
Our rock-solid issue: To dramatically expand and advance individual liberty in America.
Our clear, powerful message: Vote for us, elect us, and we will do everything we can to dramatically roll back today's Big Government. To dramatically shrink the size, power, authority, responsibility, taxes, and spending of federal, state, and local Big Government.
Details

Written by Patrick McKnight
Category: Candidates and Elections
New Jersey is slowly rejecting the two-party system. Voter participation and congressional approval ratings are both at record lows. Yet the courts have issued interpretations of election law that discriminate in favor of the two establishment political parties.
The establishment political parties are guaranteed the first two columns on every ballot. Meanwhile, the Libertarian Party (the third-largest and fastest-growing party) is "lucky" to receive the third column and is often relegated to the fifth or sixth column. This is unfair. All political parties should be treated equally under the law during the construction of the ballot.