News
Details

Written by Mike Guadagnino
Category: Candidates and Elections
The NJ Libertarian Party Nominates Tosone for Congress in NJ-5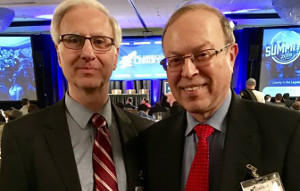 Congressional Candidate Jim Tosone
with US Senate Candidate Murray Sabrin
Township of Washington, NJ, March 27, 2017 – Jim Tosone received the Libertarian Party's nomination at the New Jersey LP Convention on March 24th, as their candidate for House of Representatives in New Jersey's 5th congressional district.
Tosone is a lifelong resident of New Jersey. His wife and he have lived in Township of Washington, Bergen County, for 30 years. They have one daughter.
Tosone had a thirty-year career at a Fortune 50 healthcare company as a Director of Business Technology. He now consults with leading organizations to help them enhance their innovation, collaboration, and communication skills. He holds undergraduate and graduate degrees in Mathematics and Technology Management from Stevens Institute of Technology in Hoboken, NJ.
Details

Written by Jay Edgar
Category: Letters to Editor
Imagine a horse race where the faster horses are given a head start. This is how New Jersey elections are run. The incumbent politicians have given themselves advantages in elections and have paid for it with your tax dollars.
As of October 12th, Democrat Phil Murphy has received $7.4 million in public funds, Republican Kim Guadagno has received just under $2.1 million in public funds. Libertarian candidate, Peter Rohrman, has not received any public funds. NJ's matching fund program allows candidates to be given $2 from public funds for every dollar they raise. Candidates from other political parties and independent candidates are excluded by setting a minimum level of $430 thousand that must be raised to qualify for the program. The more successful your campaign, the more money you get from the government. In true Orwellian newspeak, NJ Election Law Enforcement Commission Chair, Jeff Brindle, says that these funds allow those who qualify to "mount competitive campaigns".
Details

Written by Mark Richards
Category: Letters to Editor
This letter was published in The Record, 10/4/2017
I wonder if the people making such a big deal over some players in the NFL not standing for the national anthem realize we didn't even have an "anthem" until the 1930's and the tune to which it's played isn't even American, but the tune of an old English drinking song. The same could be said about the Pledge of Allegiance to the flag, which wasn't written until the 1890s and by a self-avowed Socialist named Walter Bellamy at that.
Details

Written by Webmaster
Category: Press Releases
New Jersey Libertarian Party
PO Box 56, Tennent, NJ 07763-0056
(732)962-6557
njlp.org, This email address is being protected from spambots. You need JavaScript enabled to view it. 
PRESS RELEASE
Contact: Patrick McKnight –Chair, NJLP
This email address is being protected from spambots. You need JavaScript enabled to view it.
FOR IMMEDIATE RELEASE
NJ Libertarian Party Fighting For Lower Property Taxes
Tennent, NJ, September 20, 2017 –
I love New Jersey. My family has lived here for four generations. Unfortunately, New Jersey has become a difficult place to live for anyone other than the extremely wealthy. It doesn't have to be this way.
In my town the average homeowner will pay nearly $150,000 in property taxes over the next 10 years. This fact represents a serious failure of public policy. A community should be more than a school district where its graduates can't even afford to live.
Details

Written by Mark Richards
Category: Letters to Editor
This letter was published in The Record, 9/14/2017, USA Today, 9/13/2017, and the Suburban Trends, 9/20/2017

While racism, bigotry and hate deserve to be condemned, I can't help but observe that many of the letter writers to The Record display an appalling lack of historical knowledge despite their noble intentions.
For example, I see the concept of secession being labeled as treason when applied to the South in 1860. If that's the case, then the original 13 colonies should be condemned for seceding or breaking away from England in 1776. Keep in mind that the states brought the federal government into existence not the reverse.